June through August
Everday, 9:00am
Monday, 9:00am
Tuesday, 9:00am
Wednesday, 9:00am
Thursday, 9:00am
Saturday, 9:00am
Everday, 9:00am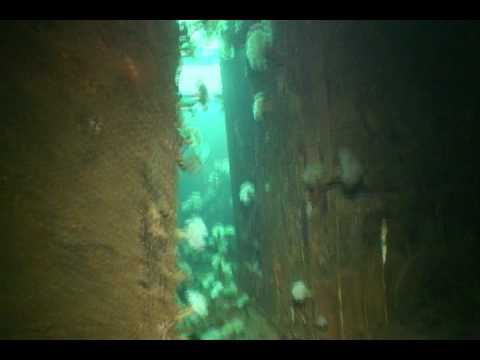 Our dive charters are the best way to explore the Bell Island shipwrecks and other great dive sites around Bell Island, Kelly's Island, and Little Bell Island. Leaving Sunday-Thursday and Saturday, we will take you to explore two of four of the famous Bell Island shipwrecks -  Intact and upright on the bottom, over 400 ft long, and in virtually the same conditions as the day they were sunk by German U-boats in 1942.
Meeting at Sunset Key Marina at 8:30 AM for a 9:00 AM departure, we will take you to the first of your two chosen wrecks, while the afternoon will see you explore the second. After your morning of adventuring, we surface for lunch where you relax topside and enjoy some of Skipper Bill's delicious soup before returning to the marina at 2:00 PM.
Sunday through Thursday, beginning June 11th through to August 4th, is an opportunity for you to meet some new people and join one of our visiting dive groups, while Saturday's (May 28-September 24) are a chance for locals and visiting divers alike.
Bell Island Shipwrecks:
1) PLM-27 The PLM-27 is the shallowest of the four World War II Bell Island Shipwrecks. It is easiest to access, provides the longest bottom times, and is suitable for all levels of divers. It is the only Bell Island shipwreck to have an intact propeller and it receives the most light, making for unbelievable photo opportunities.
2)SS Saganaga The Saganaga, second shallowest of the Bell Island Wrecks, is an explorer's dream. Its depth allows for longer bottom times and great visibility. It's the perfect playground for divers of moderate skill, and will surprise and delight all visitors. With great swim-throughs and a garden of sea anemones, photographers will find a paradise between 60 and 85 feet.
3)SS Lord Strathcona The second deepest of the Bell Island wrecks, the Lord Strathcona allows for better penetration and longer bottom times than her sister ship, the Rose Castle. The ship's super structures will tower over you, and the cavernous depths of her holds will invite technical divers. Being deeper than the PLM-27 and Saganaga, it is in slightly better condition, thanks to being out of the way of currents and passing icebergs.
4)SS Rose Castle The crown jewel of the Bell Island wrecks, the Rose Castle sits slightly deeper than the others, while still providing plenty to see at recreational depths. It is beyond the reach of currents and icebergs, and its pristine condition will astound you. With rigging intact and artifacts left as they were when she went down, the Rose Castle is a time capsule and an underwater museum.
Note
* Price excludes HST. As well, there are a number of options for your half-day charter. The basic price includes two air tanks, weights, and lunch. For $205, your half-day charter will include a full kit and wetsuit, and for $215, your half-day charter will include a full kit and drysuit.
You may also request a dive guide for $50/dive with a minimum of two dives.
As well, for $220/hr you can enjoy a customized dive charter boat rental, which includes two rental air tanks and weights.